Feast your eyes on a few of this year's vibrant creations, then vote for your favourite find from our top 100!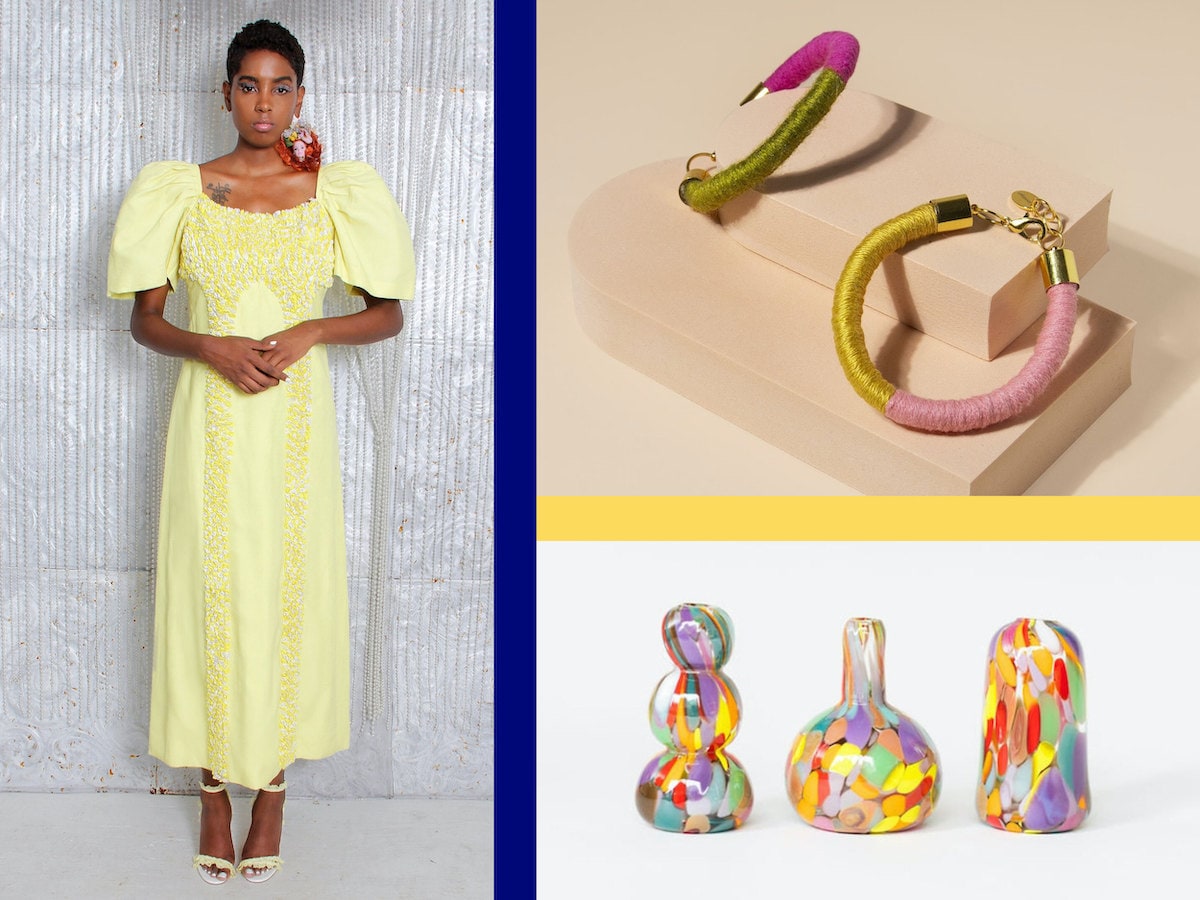 Talk about brilliant! Our highly anticipated list of Etsy Design Awards finalists just dropped, and it's not only full of shining stars - but quite a few rainbows, too. That's right: From prismatic patterned coasters to contrasting colour-blocked bangles, if there's one thing this batch of Grand Prize Etsy Design Awards contenders proves, it's that a pleasing pop of pigment can do wonders for our mood.
So in the spirit of spreading joy, here are 10 eye-catching finalists that are sure to surprise and delight you with their colourful concepts and fresh points of view. What's more, these bold beauties are just a small sliver of the incredible kaleidoscope of craftsmanship represented in this year's competition. Be sure to explore the full lineup of all 100 finalists, and let us know which piece (colourful or otherwise!) speaks to you by favouriting your front-runners. Keep in mind: The seller whose listing gets the most favourites between now and 21st June will take home the People's Pick Etsy Design Award - a 5,000 USD prize.* And now, without further ado, please enjoy a few of the brightest creations of 2022.
Cool tile coasters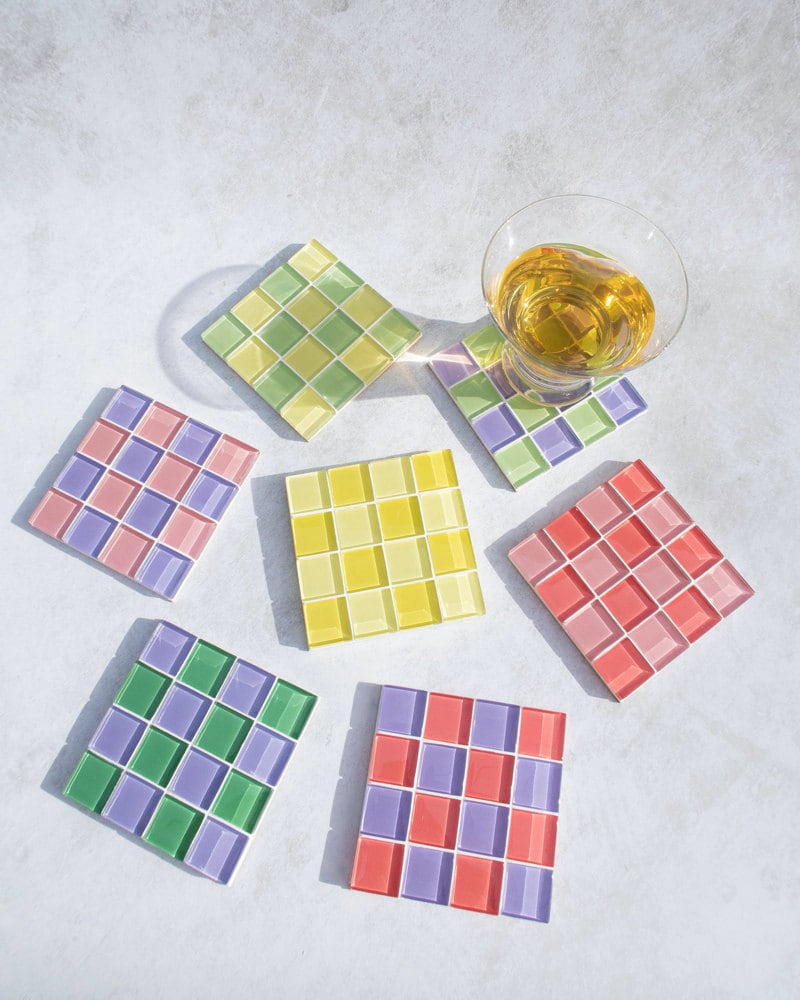 Glass tile coasters from Subtle Art Studios | 2022 Finalist: Kitchen and Dining
Come 5 o'clock, why not sip your pick-me-up punch in style with a classy glass tile coaster from Subtle Art Studios? Opt for a single square in the two-toned chequered combo of your choosing, or mix and match for a full set of four in tutti-frutti shades of lemon, lime, and cherry. Cheers to a tasteful tabletop!
Extra-expressive art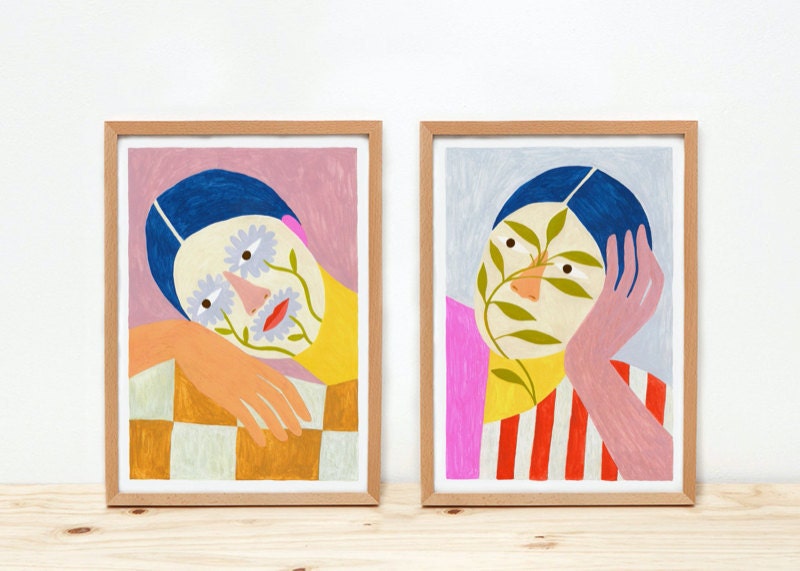 Feminine portraits from Depeapa | 2022 Finalist: Art
Foolproof decorating tip: Give your walls a modern facelift with a pair of vivid giclee portraits from Depeapa. Each carnivalesque composition is illustrated by hand with saturated inks to create a spellbinding set of sister prints whose pattern, colour, and shape play off each other in a perfectly pleasing way.
A curvy coffee table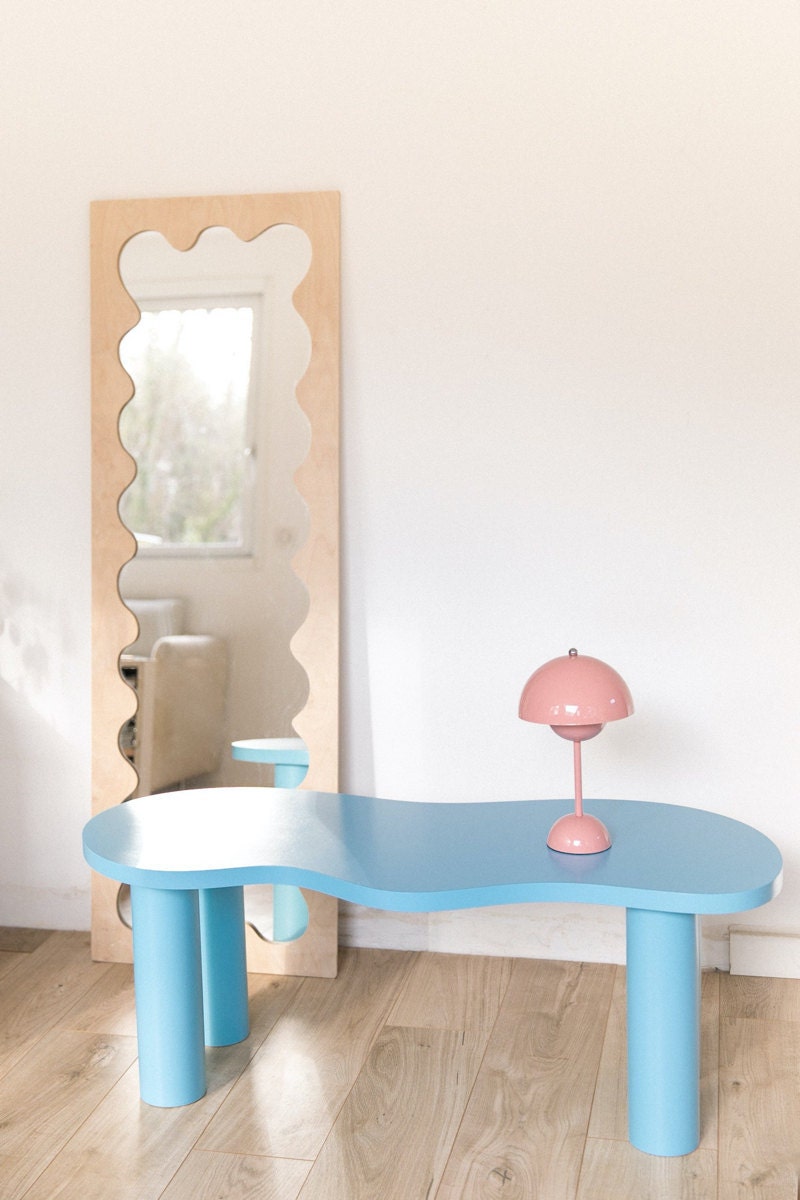 Haricot coffee table from Little Anana | 2022 Finalist: Furniture
Crafted from sturdy birch and available in ten hand-painted options ranging from a peppy party pink to a sunny sky blue, this playful squiggle-shaped table from Little Anana is guaranteed to make waves as the focal point of any well-furnished living space, and delivers a super-smooth swanky surface on which to display all your favourite objects.
A visionary vintage dress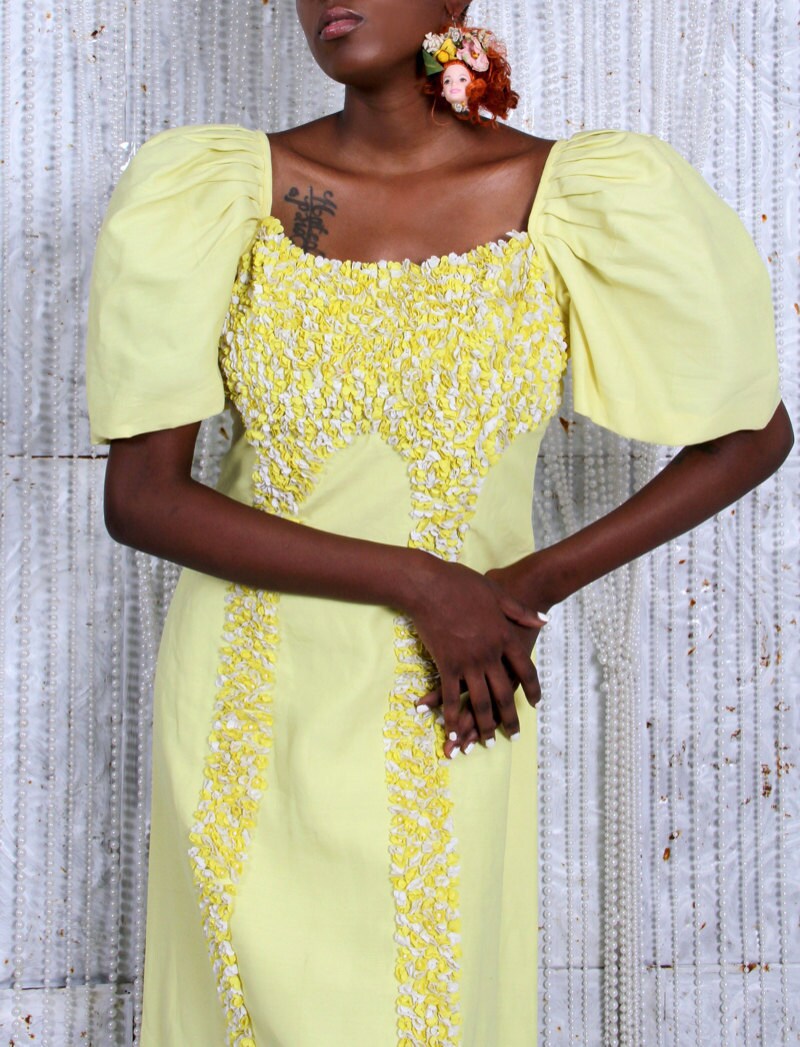 Ceremonial barong tagalog dress from Tati Tati Style | 2022 Finalist: Vintage
The pure vibrancy of this highly romantic vintage dress from Tati Tati Style - a traditional ceremonial gown in a nearly-neon yellow - is matched only by its equally eye-catching details, from its exaggerated pleated puff sleeves down to the textural hand-stitched flowers that cascade down its bodice. Positively radiant!
A multi-coloured mini vase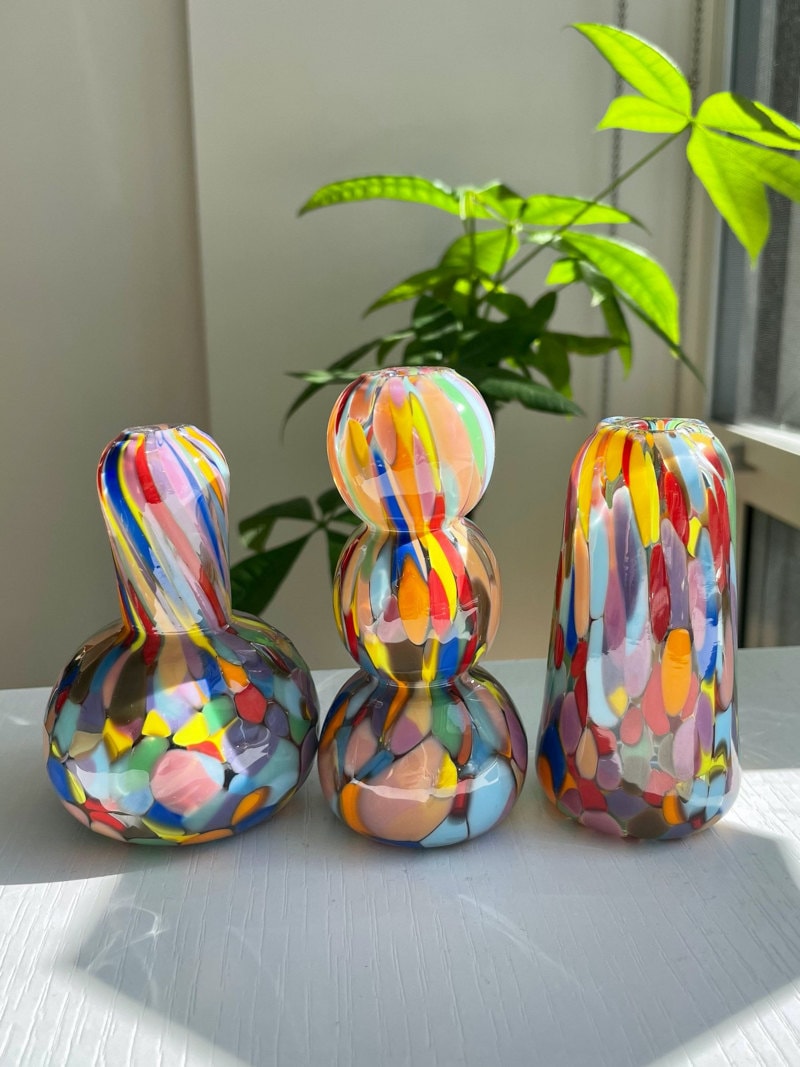 Hand-blown glass vases from Maria Ida Designs | 2022 Finalist: Home Decor and Lighting
What brings us more joy than fresh-picked flowers? How about an extra-special vessel in which to arrange their stems? These gorgeous bud vases from Maria Ida Designs are carefully hand-blown from glass for an all-over paint-splashed effect, and offered in three whimsical silhouettes that will instantly brighten up any windowsill, table, or desk.
Colour-blocked bracelets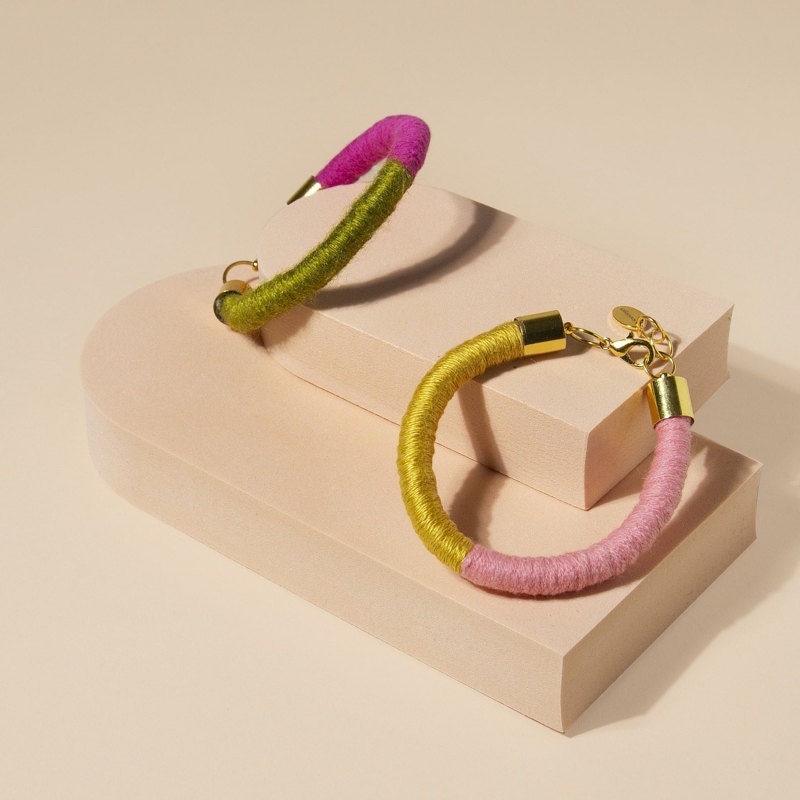 Macramé stacking bracelets from Knottinger | 2022 Finalist: Jewellery
Combining the structure and sophistication of a bangle with the versatile sizing of a clasp, these vibrant fiber-wrapped bracelets from Knottinger put an elevated, modern take on macramé, and look extra-chic when stacked. Try mustard paired with coral or fuchsia and chartreuse - the ideal colour coupling is completely up to you.
Succulent pavement chalk
Handmade pavement chalk from TWEE | 2022 Finalist: Kids
Whether your little ones choose to arrange each chalk piece into a tiny potted garden or race outside to draw imaginative scenes in the driveway, these succulent-shaped scribblers from TWEE are not your everyday art supply! Each 10-piece kit comes with a mix of cute cacti and multi-coloured flower pots for a base - plus a sprinkling of glitter dirt for good measure.
Matching pet-shirts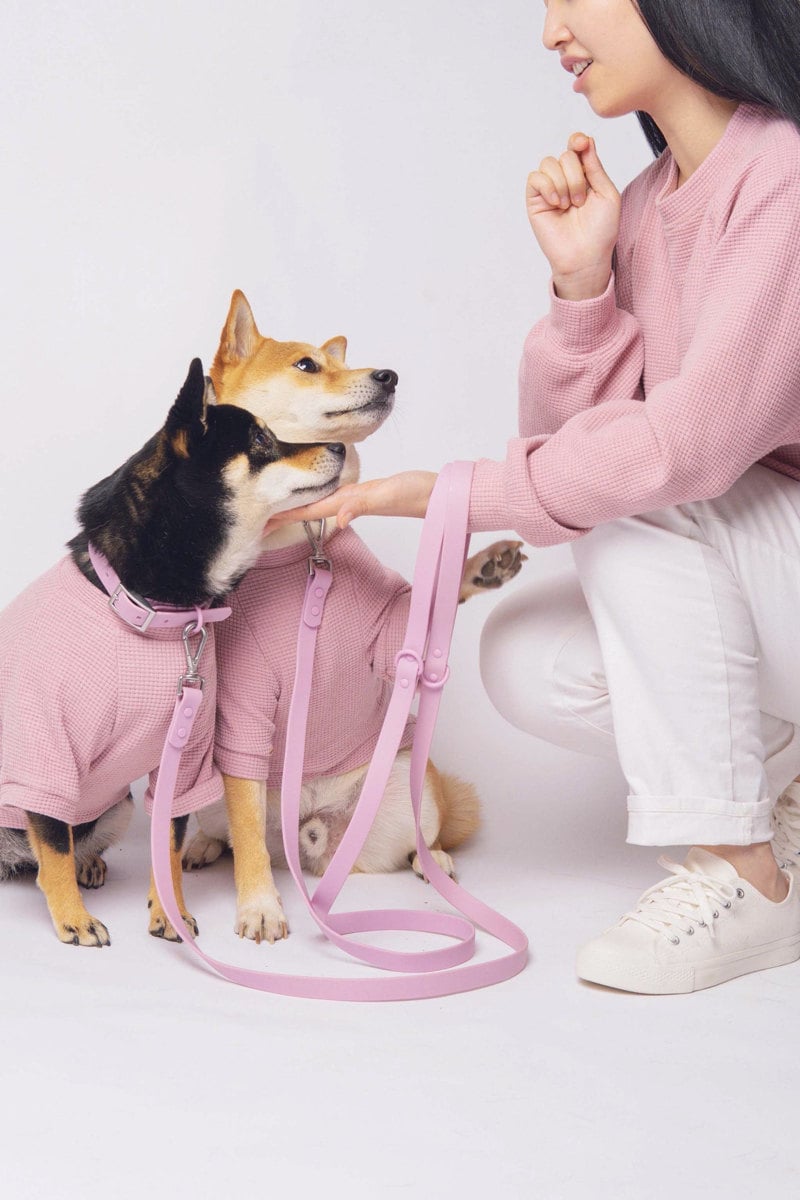 Matching dog and human sweatshirt set from Uni and Nori | 2022 Finalist: Pets
It's no secret that you and your beloved fur-baby always walk in step, so why not show it off with an identical set of sweatshirts in a paw-pular shade of pink? These waffle raglan tops from Uni and Nori offer the utmost in comfort and colour coordination, with a snuggly slouchy fit for both canine and companion. Pro tip: Snag the matching leash for a seriously stylish stroll in the park!
A happy-hued hat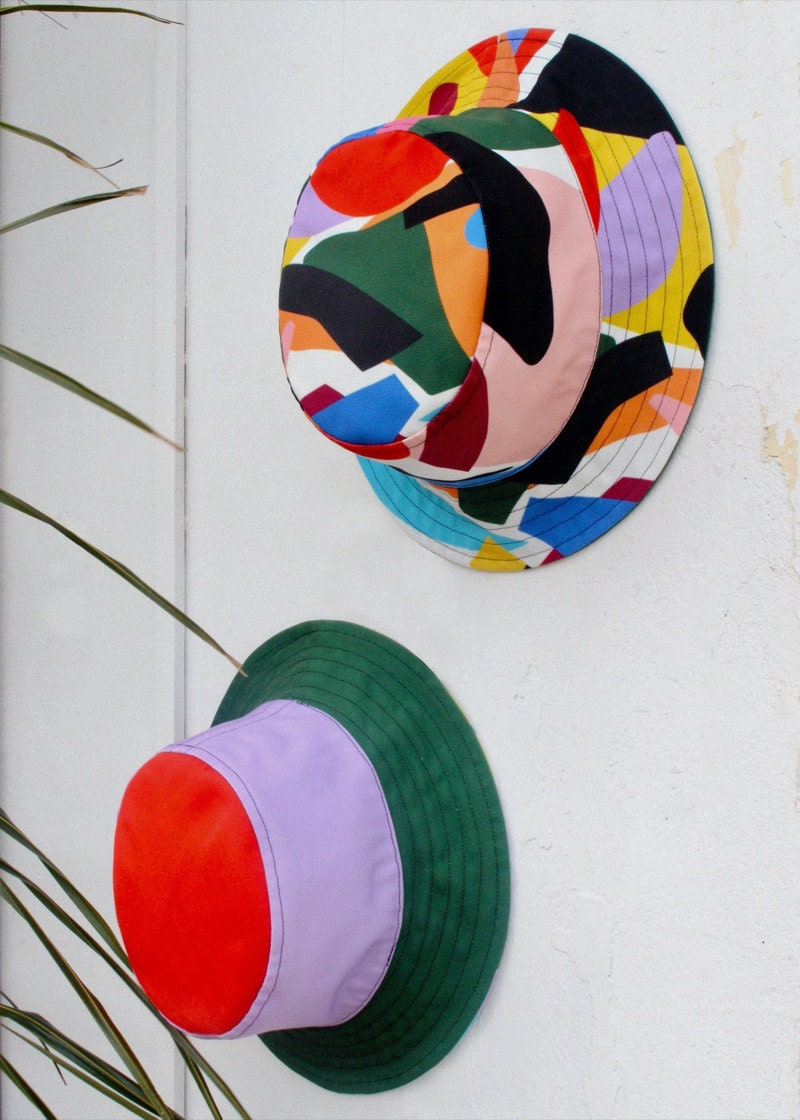 Reversible bucket hat from Josie Creas | 2022 Finalist: Clothing and Accessories
For a sunny-day accessory that's brimming with personality, look no further than this abstract-patterned bucket hat from Josie Creas. We love the bold, all-over print of irregular geometric shapes, but if you're feeling a little more low-key, simply flip the fabric inside out for a simplified, tri-colour style that pairs well with an everyday ensemble.
A beautiful bridal topper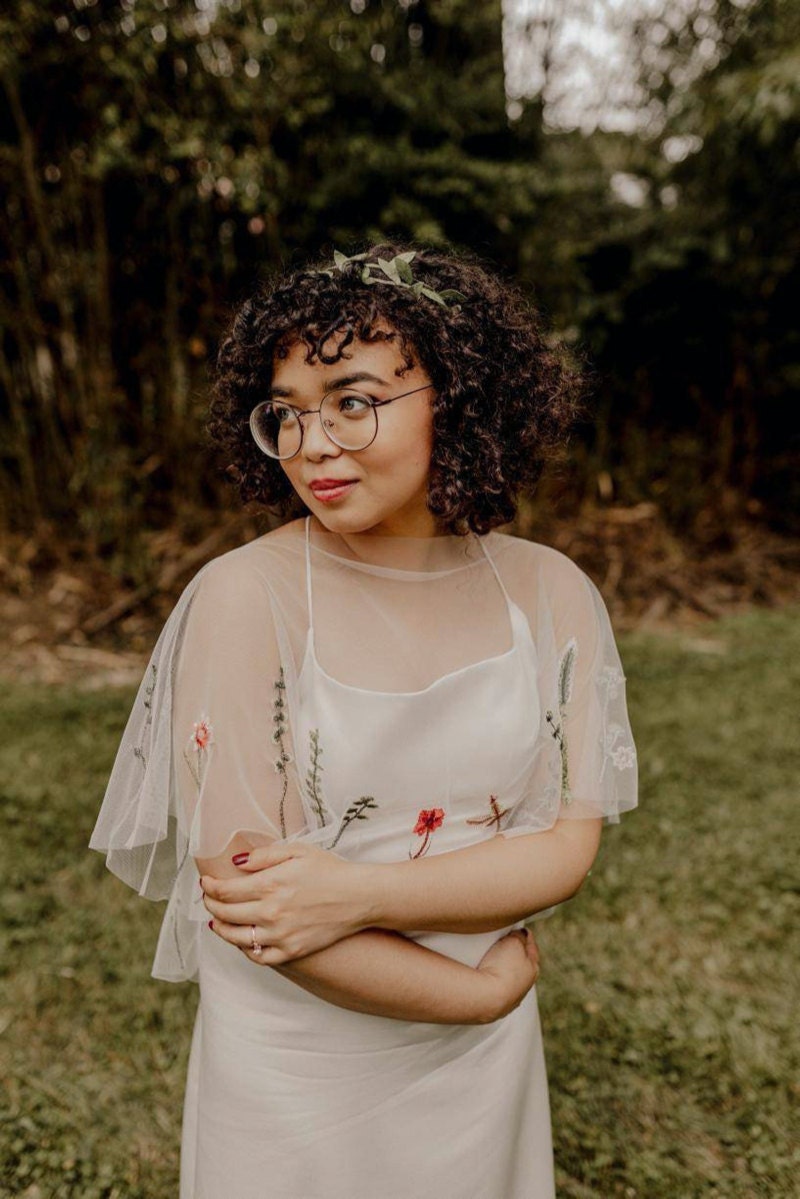 Embroidered bridal cape from La Voile Rose | 2022 Finalist: Weddings
With its intricately placed floral appliques blooming up from its bottom edge, this delicate tulle cape from La Voile Rose adds a touch of garden glamour to your special day, and just enough drama to your coverup game to take you from first look to first kiss in understated elegance.
Explore their one-of-a-kind creations and be sure to check back in July, when the winners - handpicked by Etsy's Dayna Isom Johnson and designers from The Expert, including Jake Arnold, Jenna Lyons, and Brigette Romanek - will be revealed.

*See the Submission Terms for more Etsy Design Awards information: https://etsy.me/3MIc9WH.
Flowy Silhouettes in a Rainbow of Colours by VanoushLove
A search for movement and colour led this Goa-based creator to India and now inspires her designs as well as way of life.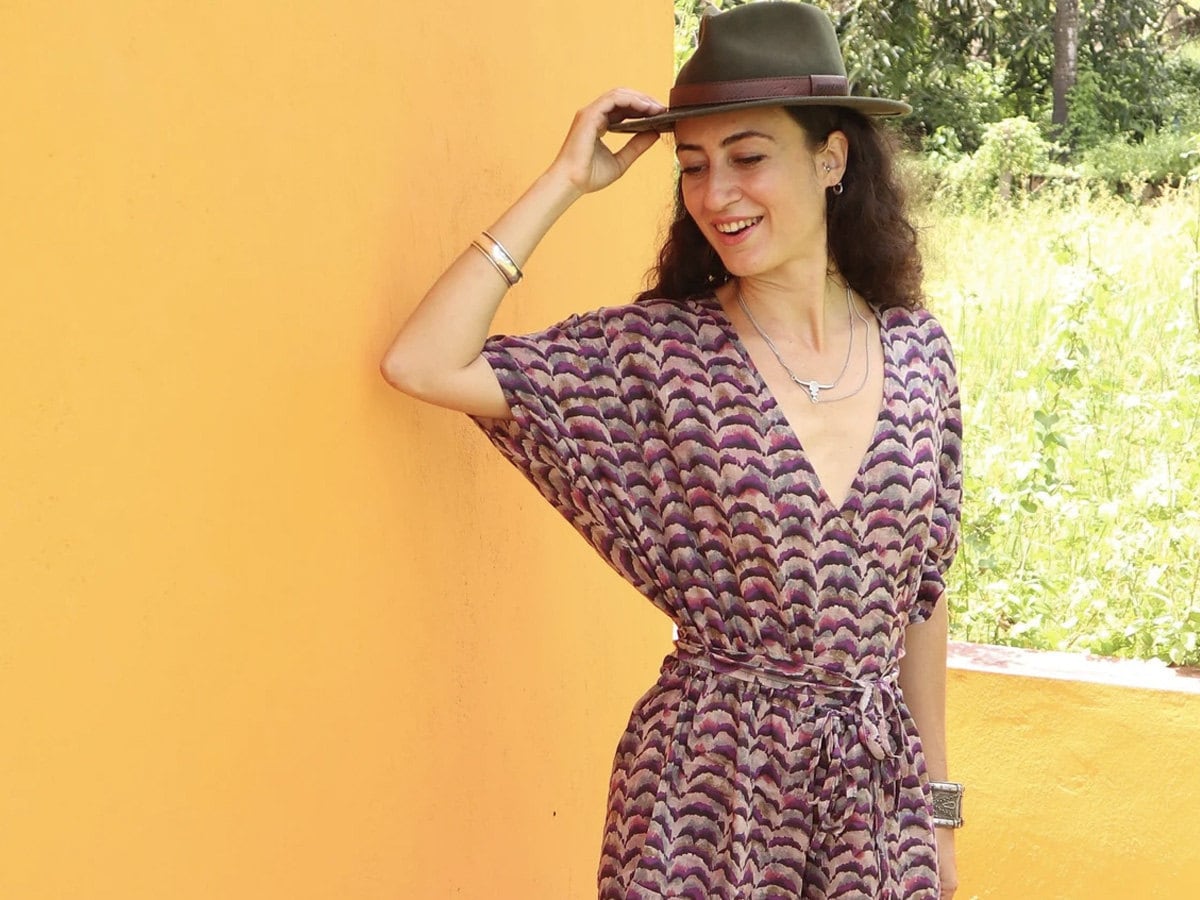 In our Featured Shop series, we shine a light on a standout shop from Etsy's talented seller community, offering readers a behind-the-scenes look at their process and story.
Vania, creator of Etsy shop VanoushLove, offers a clothing collection that you turn to for the vibrancy and flowy silhouettes, and stay with for the comfort and freedom it provides. A backpacker's dream wardrobe, her collection is a mix of free-size jumpsuits, tops, kimonos and more - all in shades that can brighten up your day instantly. "I believe in colour and the rainbow is my religion," says Vania. "My clothes are a medium for me to be able to spread that joy these colours bring me."
If there is only one piece of clothing in the world for you, which makes you feel good and fulfils all of your needs, jumpsuits would be Vania's. Inspired by her own travelling needs, Vania's uniform of jumpsuits are the showstoppers of her store. Along with her tailor (now more of a teasing father-figure), Prakash, she continues to experiment with silhouettes and sizing to evolve her clothes to be multifaceted and sizing inclusive.
Read on to learn how a search for colour during her six-month long trip to India helped Vania find her calling and gave birth to VanoushLove.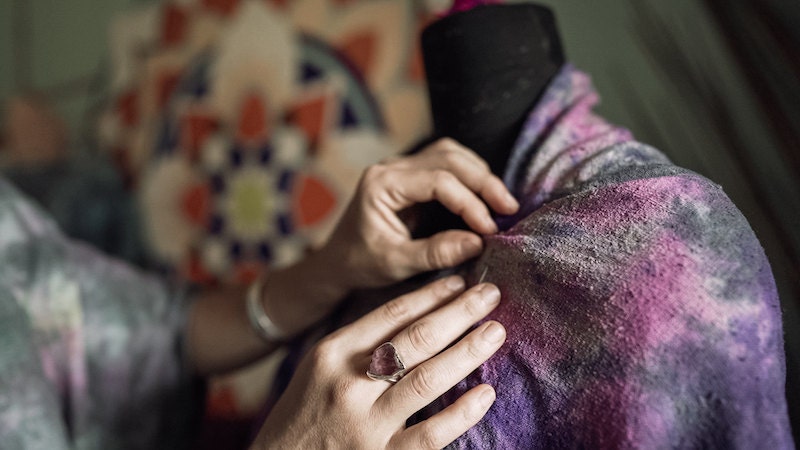 How did you start designing clothes?
Vania: It was all accidental. I studied Film, so back in Montreal, when I started working in the industry, everyone pushed me towards wardrobe when they noticed I had a certain knack for it. It made me wonder if that was where I belonged as well since I was still figuring things out at the time. I thrived in the wardrobe department; it was where I found my calling, I would say.
Some time later, I was looking to take a break for many reasons and I decided to come to India - I was already into Ashtanga (yoga) and I felt drawn towards the country. In North America, we don't have as much colour and this is the place of colour. I was travelling all over and realised it was very difficult to dress for backpacking here. That's when I tried jumpsuits and they were so comfortable and they suited my mood and needs perfectly. They would cover me up, they were comfortable, I could be mobile and quick in them. And every time I wore a jumpsuit, I got so many compliments. It made me wonder, if we all love jumpsuits, why don't we have more of them, the kind that we want? So I started making my own jumpsuits, since we're in the land of textiles and tailors. When I would wear them out, even to other stores, people would ask me where I had bought them. I realised then that there was a gap in the market and that's how my designing journey began.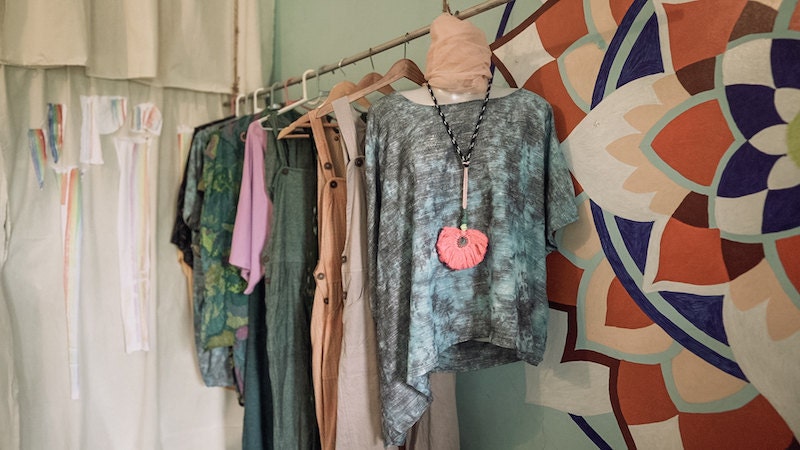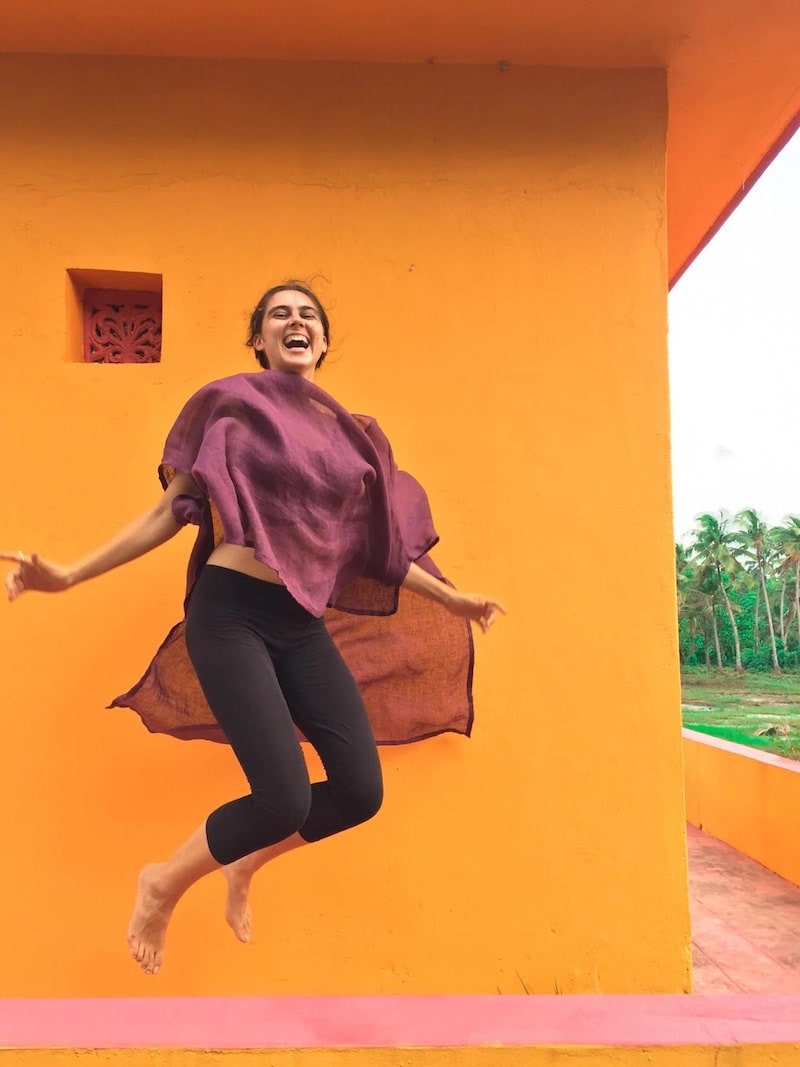 SHOP: Summer Kaftan Poncho by VanoushLove, Rs 2,579
When did Etsy enter the picture for you, and how has that affected your work or your creative process?
At first, I started selling in markets in Goa. This is a city of tourism so I was meeting so many travellers from all over the world. With Etsy, you can reach people abroad and I wanted to continue this journey of meeting people but from here. I joined Etsy in 2019, and at first I just thought I'll add four jumpsuits and the magic will happen. But, of course, that's not how it works - you have to pay attention to it and grow in a different way. You have to nurture your store like a garden and put new items up regularly. As far as how it affected my creative process, it made me realise it was best to go towards free-size clothing. I'm sick of the sizing culture - it would be so cool if everyone could wear the same size and carry it in a different way. It's been interesting to explore this idea further and navigate the process to achieve it.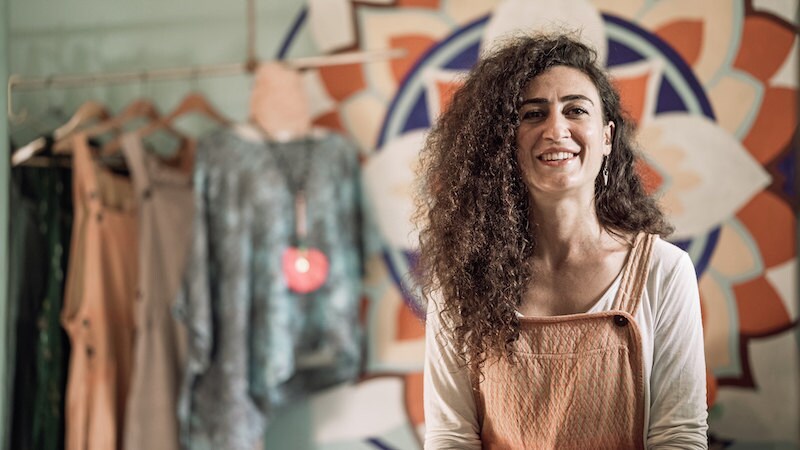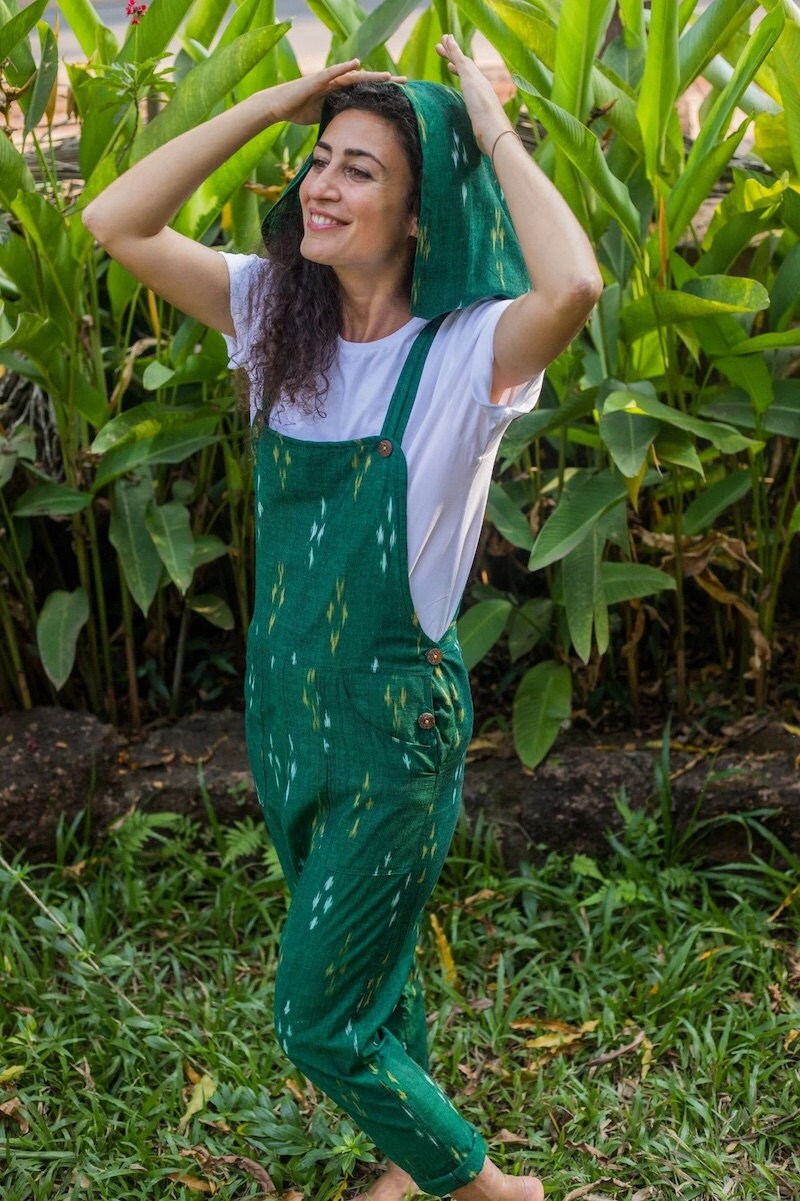 SHOP: Green Ikat Jumpsuit by VanoushLove, Rs 6,447
So I'm guessing the first item that you listed was a jumpsuit then? Are there any details about it that you could share?
Yes, it was definitely a jumpsuit. I thought it was only going to be jumpsuits and that I was going to have a jumpsuit empire. I remember wanting to make a free-size jumpsuit but that didn't work out so I made two sizes, small-medium and medium-large. It was drop crotch because I wanted it to be baggy but not too loose and I know everyone doesn't like hoods so I made it detachable with buttons. I tried it on many of my girlfriends of all sizes and took so much advice from my friends before I perfected it. For example, a friend told me that you need to wash your fabric before you sew because it might shrink. Such a basic thing but I wouldn't have known it otherwise.
What's your workspace like?
I work from my home in Arambol (Goa), I have an extra room where all my things are and where all the planning happens. My home is in nature - which is absolutely necessary for me. I need a lot of quiet. When all hell breaks loose, when I can't concentrate or when I can't even meditate, I know I can always just step outside for a walk and see what's around me to remind myself how everything in nature keeps moving, without asking any questions. It brings me back to the present and helps me return to the task at hand. The only thing I would change is that my space becomes too chaotic when I'm in the middle of creative work. So a little less chaos would be nice.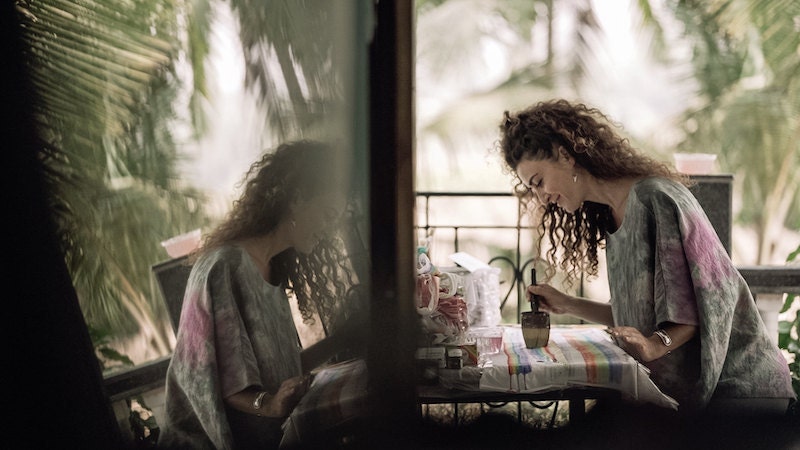 What's a typical day like for you?
My typical is atypical. Goa has its own flow. What I've learnt from living here is to relinquish control. I set my intentions for the day - but what happens, happens. I make sure I start my day with movement; the beach is just five minutes away so I can always go for a swim, or I do yoga or pilates at home. And then I just go with whatever comes my way - if I get some ideas, I work on those or if Prakash, my tailor, calls to tell me an outfit is ready, I rush to him. Dance is another important part of my day and it's very big in Goa, as well.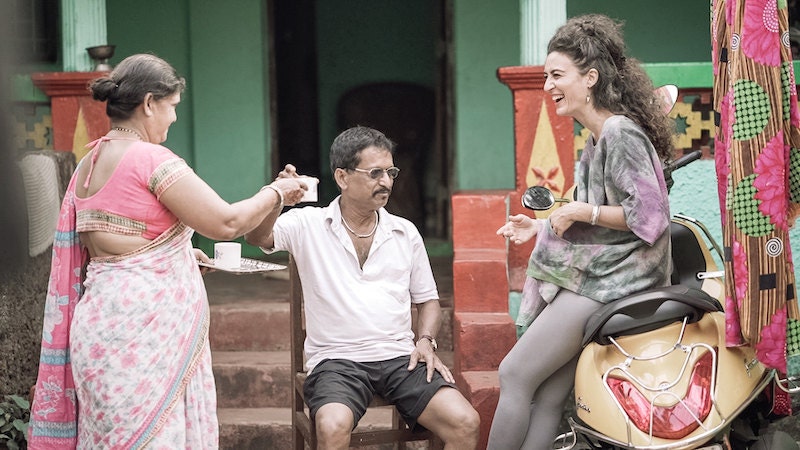 Can you walk me through the process of how you go from an idea to a finished product?
Sometimes, it starts with a lovely fabric I find - I just want to find a way to have it on my skin. Other times, it's more practical. I feel the need for something specific, like an outfit that's fun and elegant, one I can wear to nice restaurants but also dance in. Usually, I'll sit down and do a very rough drawing. Then I'll try playing with the fabric or draping it on my mannequin. I'll do research too because sometimes you think you have a brilliant idea but then you find out that someone has done it already. And while I'm not trying to reinvent the wheel, I like to make sure that a design is still very me in many ways. I'll pull up some reference pictures for Prakash, but add notes of how it should fit and fall differently. He advises me really well on how my ideas could be implemented and that's how we manage to reach a finished product together. With so many of my ideas, we go back and forth a lot because I want to keep making changes until it's perfect - I'm really blessed that he has infinite patience with me when that happens. We've been working together since the beginning of Vanoush and even if I stopped making clothes tomorrow, I know I would remain close with him and his family.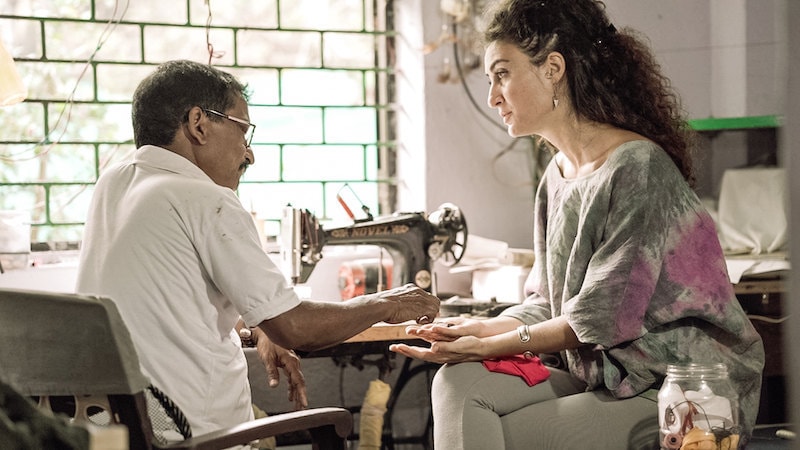 Do you have a specific type of person in mind that you think of when you're designing?
What I see is a woman in tune with herself - she stands in her own power, irrespective of outside conditioning, narratives and pressures. She's living life for herself - she's on her own journey, her own path. It's not necessarily this way but it makes me think she's a seeker. Either a spiritual seeker or she's all about freedom, seeking her own fun, her own language, her own joy, and her own spark within. She's on a quest; it may be an adventure or simply a desire to learn something new. For me, that makes her a brave and bold woman.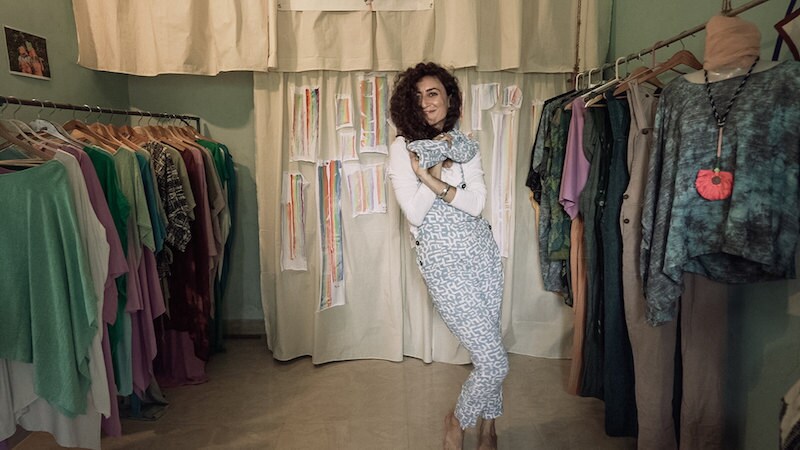 What have been some of the most exciting moments or proudest achievements of your creative career thus far?
One of them has to be when Etsy reached out to me for a video feature. It came at a time when I was starting to question my work, if it was attractive enough and how I could reach more people. And when Etsy called, it gave me the answers - I have to continue being myself, keep putting out the love and eventually, I'll find my way to the right audience. It was such a special moment. When I mentioned it to my friends, they immediately admonished me for downplaying it and insisted that we celebrate.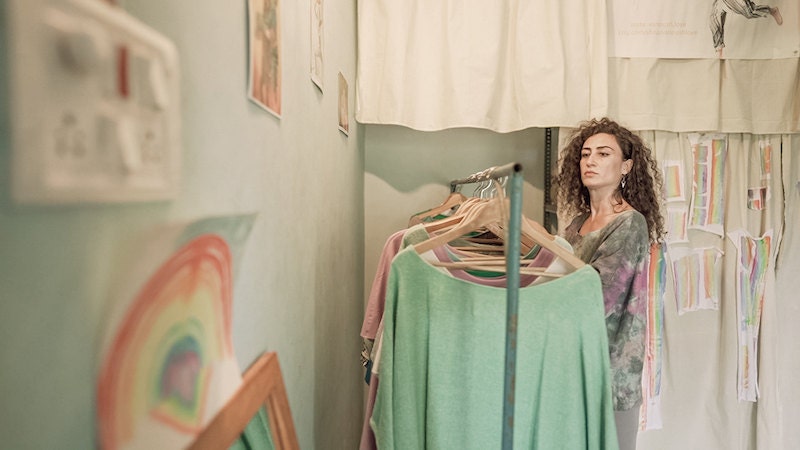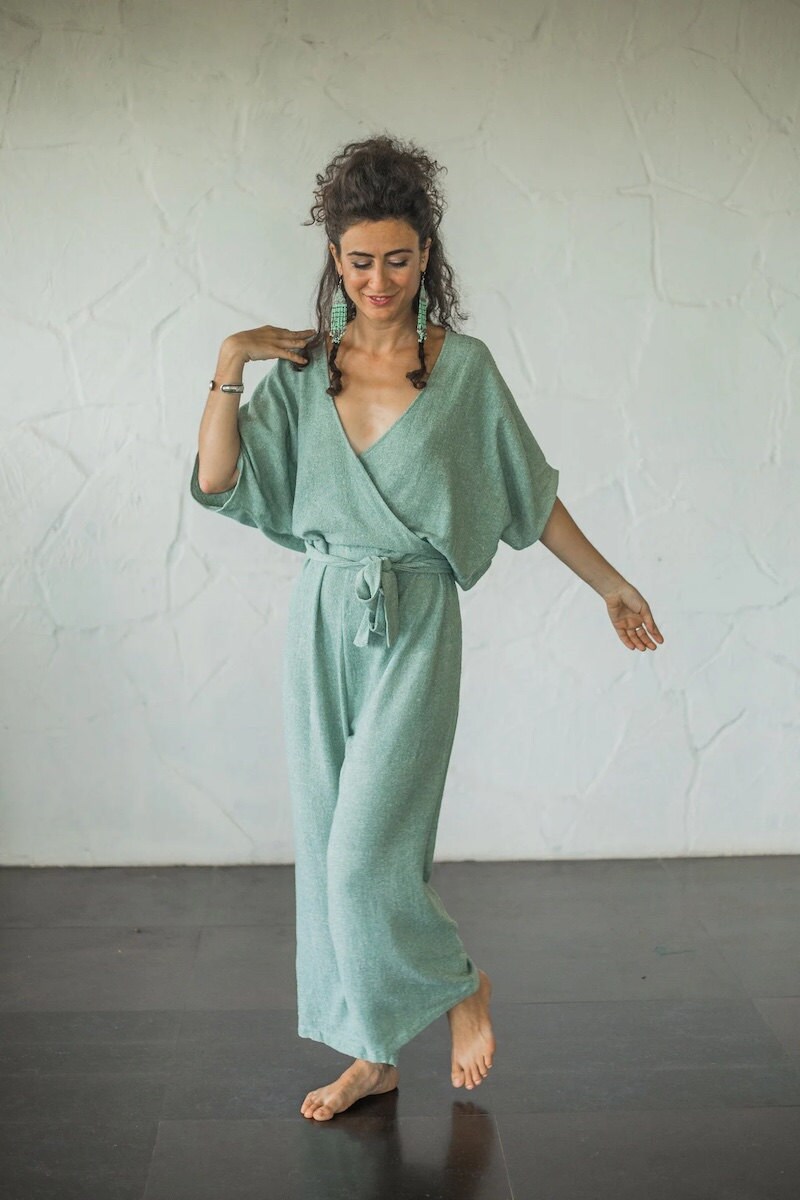 SHOP: Raw Silk Wrap Jumpsuit by VanoushLove, Rs 9,026
So, what's next for VanoushLove? The next collection is going to be my rainbow collection and I'm really excited about it! Every piece is going to be unique as I'll be hand-painting a rainbow on each of them. I practised it a lot, in hopes to perfect the rainbow so it could be uniform. But what I learnt during the process was that it didn't need to be! These are handmade items and each one will be different because they all have their own journeys, just like the women who will be wearing them.
Follow VanoushLove on Instagram.
Studio photography by Prashant Sati and Kunal Pant. Product photography courtesy of VanoushLove.